Used Aeron Chairs for sale in Houston, TX and Katy, TX
OfficeMakers sells used Aeron chairs and comparable alternatives.
OfficeMakers often has some Used Aeron Chairs for sale on one or both of our showrooms in Houston, Texas or Katy, Texas.  When in stock these used Aeron chairs sell quickly due to their popularity.  A quality used Aeron chair typically sells from $250 – $350 depending on condition.  Damaged used Aeron chairs sell as-is starting at $100.  Call 713-461-1277 now to ask about pricing and availability.
We also offer several alternatives to used Aeron chairs some of which are comparable in terms of quality and warranty to new Aeron chairs.  Other alternatives are for the more budget conscious buyers who are like the aesthetics of the chair but don't need all of the functions.  For example with conference table chairs we do not recommend a lot of adjustments, but if you want the look and style of a used Aeron chair, we recommend our KB-2022 or our KB-8901B mesh office chairs.  The KB-2022 is a very simple modern looking mesh chair with fixed arms and the only adjustments are up and down, back lock, and a back tension.  The KB-8901B mesh office chair has a few more adjustments than are typically recommended for a mesh boardroom chair with adjustable arms, and an adjustable lumbar.  Both chairs carry a 3 year warranty and are priced at less than a third the cost of a new Aeron chair and less than half the cost of a used Aeron chair.
For someone wanting an ergonomic chair with all the bells and whistles and lifetime guarantee.  There is the HON Ceres chair which can be viewed at our at both our new office chair showroom in Katy, TX and our office chair showroom in Houston, TX alongside our used Aeron chairs.  The HON Ceres chair is the most comfortable office chair and most ergonomic office chair offered.  It is fully featured and comparably priced to a new Aeron chair.  One of the best features about this chair is that the back tension is a slider which only requires the user to slide the mechanism about 3 inches to go from minimum to maximum tension.  Even the used Aeron chairs require several revolutions of a knob to accomplish the same feat.  It also features an adjustable seat pan, adjustable arms which are attached to the back of the chair not the seat, and the chair is designed to bend at the hips where you do for optimum comfort.  Come by one of our office chair showrooms today and see these options and more.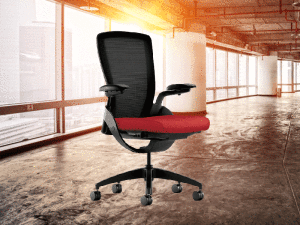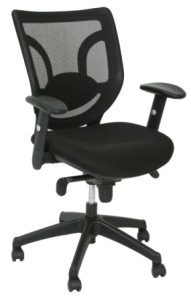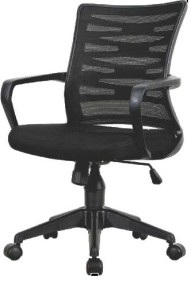 Used Aeron chairs sell very quickly so call and check stock, but do not forget we offer many alternatives to the Used Aeron Chairs. Call and let one of our ergonomic chair experts know why you are considering a used Aeron chair and ask about alternatives that might suit your needs.
OfficeMakers has been Houston's local choice for new and used office furniture since 1989.  If you are looking for used Aeron chairs in Houston, TX, Katy, TX or anywhere else, give us a call at +1 713-461-1277 or stop by one of our showrooms today.