Slide 1
Sandbag Services For Hurricane Season
Have You Ordered Sandbags to Protect Your Business?
The best way to gain peace-of-mind is to be prepared. At the beginning of hurricane season or as soon as possible, every business along the Gulf Coast needs to implement a flood protection plan.
In addition to office furniture and social distancing products, we provide bulk sandbag purchase, storage, and delivery.
Why sandbags?
The use of sandbags is a simple, but effective way to prevent or reduce flood water damage. Properly filled and placed sandbags can act as a barrier to divert moving water around, instead of through, buildings, so your team and investment are protected.
Talk to a sales associate today to begin the process.
How Our Sandbag Services Work
Step 1: Order Sandbags
Need help calculating? We have a formula.
Whether you need 20 sandbags or 2,000, we have you covered.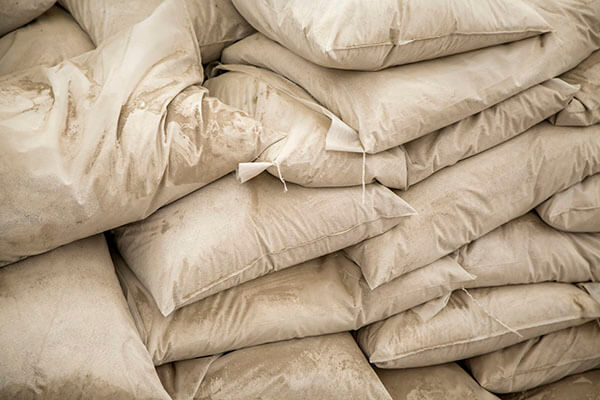 Step 2: Store Them at Our Facility
For businesses with their own storage options, we can drop sandbags off at the beginning of hurricane season well before any storm enters the Gulf. Otherwise, they will remain safe at our facility.
Step 3: Request Sandbags When Needed
We're not meteorologists, but we'll keep an eye on the weather too and let you know if they might be needed.
Step 4: Get Delivery Within 48 Hours
Our drivers will deliver them as soon as possible to any location along the Gulf Coast.
Once sandbags are delivered, and if they're not exposed to flood water, we can come pick them up and continue storing them. You can also keep them on hand through the remainder of hurricane season if you would like.
Talk with an Expert
Fill out the form and a team member will reach out to you shortly to discuss your needs.