Free Office Design Services Houston, TX Katy, TX
We offer free office design services to all of our clients.
Office furniture does not have to be boring.  Don't just buy your office furniture from a box store or order online without a plan.  Our office furniture experts are here to help you.  We offer free design services including scale drawings, rendered in both 2D and 3D.  We carry Office Furniture from HON, Compatico, Alera, Global Total Office, and much more.  With our huge selection of office furniture styles in our showrooms located in Houston, Tx  and Katy, Tx you can view samples of our products before you buy.  Our interior designers are ready to help you with great office design ideas, that are efficient and tailored to your office space and needs.  So call Call: +1 713-461-1277 now and ask about our free office design services.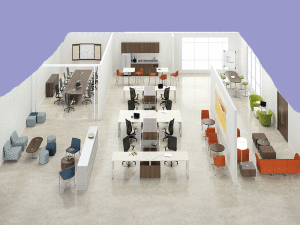 OfficeMakers has been making workplaces better since 1989.  Anything you need to furnish your office can be provided by our expert staff.  We carry New, Used, And Refurbished office furniture, Desks, Credenzas, Office Chairs, Reception Seating, File Cabinets, Bookcases, Conference Tables, Training Tables and more.  With three generations of experience in the industry our product knowledge is one of our biggest strengths.
Our office design services set us apart from the competition.  No matter what your budget OfficeMakers has the solution to fit your needs.  Whether you need to furnish 100 square feet or 100,000 square feet, let OfficeMakers be your one stop shop from planning to installation in Houston, Texas, Katy, Texas and beyond.